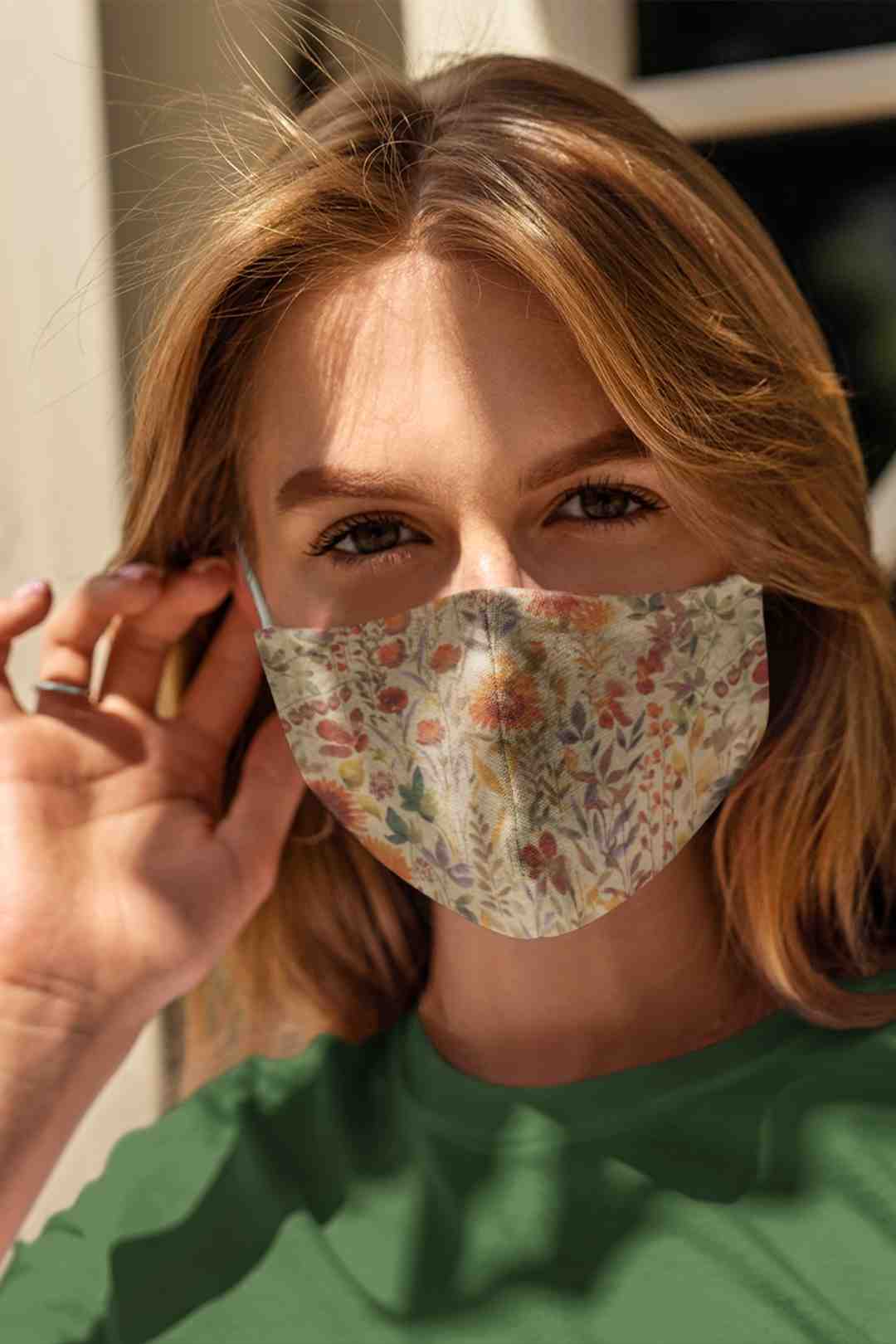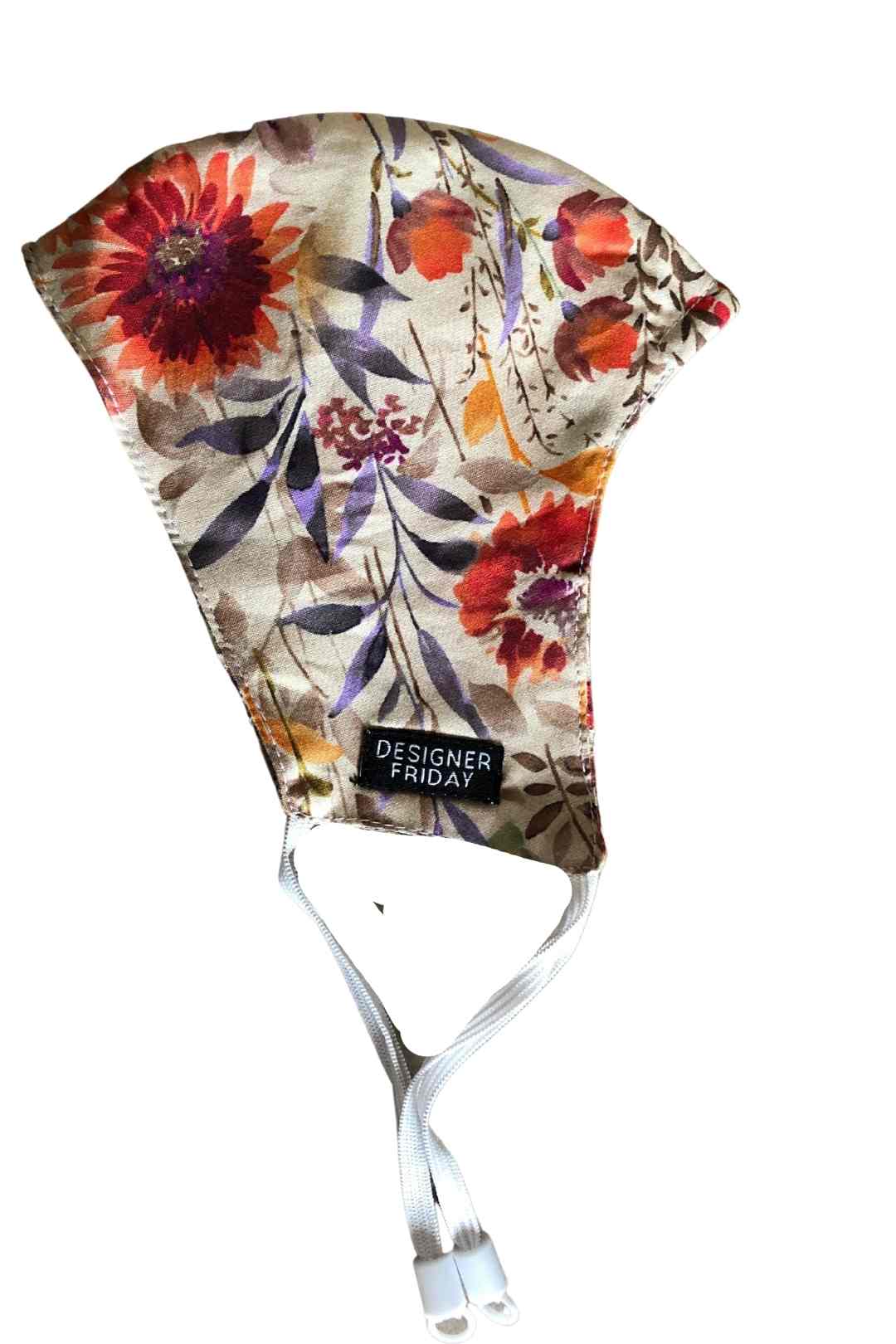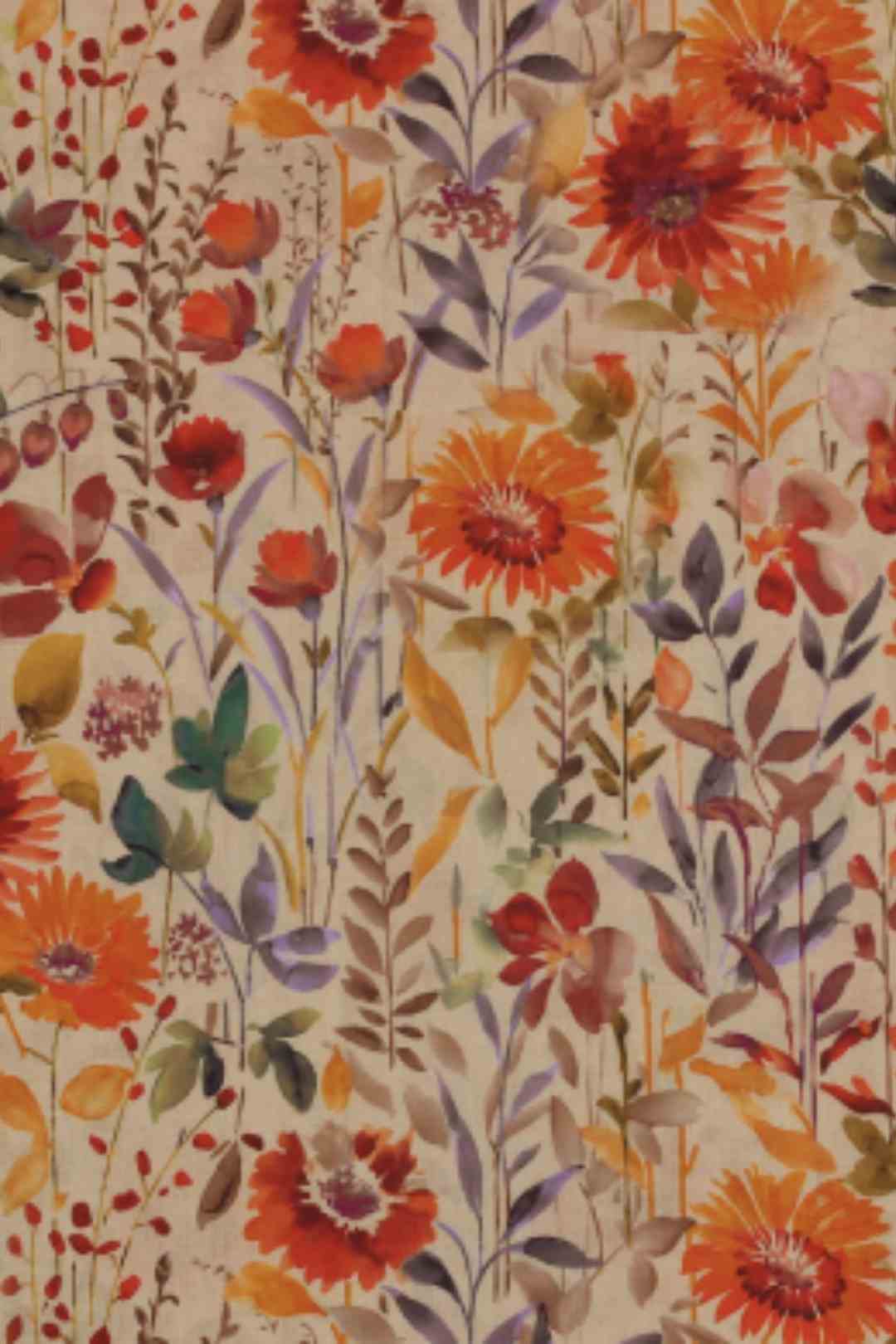 Leiya Floral Print Reusable Face Covering
Description
Comfortable, Lightweight, Easy to Breathe Masks
Our vintage floral face covering features spring florals in orange and green hues. Made with upcycled cotton, this mask is unisex and features adjustable straps to fit all face shapes.
We tested number of shapes, fit and sizes and finally perfected this fit for most face shapes. From the perfect chin seams to adjustable noseclips and loops, its the most comfortable, breathable mask you'll ever own. See for yourselves and our 5*reviews on our face coverings.
Protect yourself and others in style with this year's essential accessory. It includes filter with nanofiber technology that inhibits the growth of bacteria helping to prevent transmission.
Super comfy and breathable with filters especially made from nanofiber technology.
---
Features
Non-medical
Made from Premium Cotton
Re-Usable
Machine washable at 40 degrees
Mask covers the nose and mouth with adjustable elastic ear loops
Adjustable noseclip
Perfect Fit with double layer fabric
Seams to have perfect chin shaping
Filter: Light-weight, breathable material using nanofibre technology, filtering up to 95% of airborne particles
Outer Fabric: Upcycled fabrics made from unused cotton
Non-returnable
Free UK Shipping
---
Filters

Our US based filter manufacturers have created a light-weight breathable material using nanofibre technology. It is highly efficient, filtering up to 95% of airborne particles at 0.3 microns still has a high flow rate. It has a MERV 16 rating and filters bacteria and viruses along with dust, lint, pollen, mould, pet dander, smoke, fumes, odors, viruses, and PM 2.5.
FAQ
Can the masks be washed?
Yes, machine washable at 40 degrees.
Can the filter be washed?
Yes, it is washable! 
Is the filter safe?
Yes, it has been sourced from a trusted US manufacturer. The filter creates a fine continuous fiber that mechanically filter pollutants and has been tested for breathability and filtration.
Which side of Filter faces out?
Deeper bond points faces out (fluffyside)
Shallower bond points faces in (Shinyside)
---
Disclaimer: We make no warranties, either express or implied that this material or masks made from it, prevent infection or the transmission, of viruses or diseases. Do not use this in settings where the infection risk level through inhalation exposure is high. Do not use this material in the presence of an open flame, heat source or flammable gases or liquids. This face mask is not a substitute got medical treatment or medical devices.
Sizing
Designer Friday cares just as much about the environment as we do about the people who wear our products: our innovative approach to sizing means that our garments have no size labels and are designed to fit UK sizes 10-16.
We feel that a woman should never be defined by her size and that every single one of us deserves to look and feel beautiful. We aim to create the feeling of dressing unique a relaxing, happy experience and eliminate the concept of returns due to a poor fit. 
Returns
We are happy to accept your returns within 14 days of receiving your goods..
We do aim to reduce the cost associated to returns as much as we can. We do this by advising each of our customer on the sizing exactly measured for each dress (stated on each product page) as each of our items are made from unique limited edition fabrics. 
We feel we all need to be mindful of the cost of returns on our environment and people. Here are some facts to consider:
"The average returned purchase in the UK passes through seven pairs of hands before it is listed for resale. Every day thousands of these packages begin their costly journeys between processing centres and warehouses where products are cleaned, repackaged and readied for new owners." 
Do get in touch if you need help with measurements or have a question on our returns process.
Leiya Floral Print Reusable Face Covering
Celebrate who you are!
💖 At Designerfriday, we believe the only thing that matters is how you perceive yourself and if you like what you see in the mirror.
No beauty or fashion trend should define you. So, push boundaries.
Get out of your comfort zone, boss up, and straighten your crown.
And most importantly, celebrate who you are!
FAQs
Where are the products made?
All our fabrics are secured using responsible methods from fair trade units and products are made locally in the UK as well as in a small unit in India.
We collect fabric no longer of use from local production units meaning all garments are made of 100% pre-consumer cutting room scraps, design room waste, deadstock garments.
We simply add our creativity and imagination and create patterns and templates in our London Studio. Once the mock-ups are tested, and we know the fit and function works by trying them on various size fit like zillion times, we then choose the fabrics to be made into these mock ups in our unit in India.
We can guarantee fair wages and good working conditions have been provided to make our garments. The fabric for the products comes from UK and India. The mask filter comes from US.
Who are our people?
Our dedicated tailors and a community of women run by and for women located in northern part of India plays a pivotal role in transforming our pieces into the final product from the mock-ups produced in our London studio.
The products are made in a non-profit social enterprise, to financially empower the ladies of the village in rural India through creating ethical and sustainable fashion.
The female-run unit also focuses on the education of all daughters of women members, runs the only female health clinic in the village, and delivers workshops on a range of topics including human rights, feminism, menstrual hygiene, health, and financial literacy.
So, it's a complete win-win, empowering women who make the dresses as well as the women who would wear them.
What kind of Packaging do we use?
We use Sustainable Fabric & Cardboard and Biodegradable Packaging
Cardboard Packaging
Made in the UK, 100% biodegradable packaging that is made from recycled corrugated paper, certified by the FSC ®.
Biodegradable Plant Packaging
We use biodegradable plant based packaging which has certification for OK compost HOME, and will completely compost within 6 months in a well-maintained compost unit. Put into your home compost bin, or food waste caddies and green waste for collection by local authorities.
Recycled Tissue Paper
Recyclable and FSC approvedMade from 25% recycled materialAcid Free (ph neutral)
Fabric Packaging
Any leftover fabrics are transformed into cotton packaging to pack individual product to reduce waste and to promote the art of using Japanese furoshiki to pack the products.
Why should you support us?
We care about our environment and our people so it was important to recognise our impact and what we could do to insist on change. 
We support local communities of women in India through our production providing them with work and opportunities for a better future. Our priority is to create fashion that is good for our planet while inspiring others to feel confident and positive in the way they dress. 
With your support, we will be reversing the effects of fast fashion one step at a time while reinvesting in local communities who really benefit from the contributions.

Read the rest of our FAQ's here
Shipping
Fast shipping
We attempt to dispatch all orders within 48 hours Monday to Friday. Where there is a delay in the supply of goods you have ordered, we will advise you as soon as practicable. If the goods cannot be delivered within 30 days of your order, we will notify you of this delay and you may either cancel your order or agree a further delivery time with us.
Shipping Costs
UK Delivery: FREE - Recorded Delivery by UPS/Royal Mail
International: £20 - Please contact us on hello@designerfriday.com for any questions
The above charges are indicative.
Additional Info
Please note that on all orders placed for delivery outside the UK it is the customer's responsibility to pay any subsequent import duties that may be applicable for deliveries within their own countries.
Where there is a delay in the supply of goods you have ordered, we will advise you as soon as practicable. If the goods cannot be delivered within 30 days of your order, we will notify you of this delay and you may either cancel your order or agree a further delivery time with us.
My wife had mentioned their dresses a few times, so for her birthday I bought her a maxi dress in her favourite colour. She's in love with it and very satisfied. Highly reccomend!
I am in love with my new dress! It fits comfortably and the patterns are stunning. I have received so many compliments and will definitely be buying again soon.
The biggest seller for me was their commitments to sustainability and working with non-profits to empower women around the world. More companies should be doing this and I am happy to support.